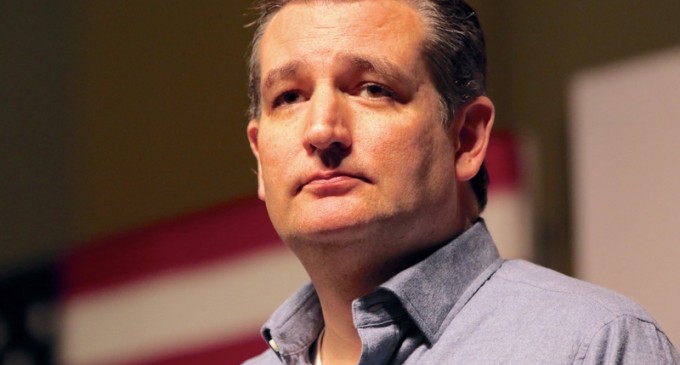 The Daily Caller recently published a piece asking, "Who is the real Ted Cruz?"
They answered the question, too. In short, he's not one to be "trusTED" at all. In fact, he's anything but.
You may recall in a recent Fox Business Network debate that Cruz, in Mr. Haney from Green Acres voice, declared to one of the moderators, "The opening question [moderator Jerry Seib] asked — would you bailout the big banks again — nobody gave you an answer to that. I will give you an answer — absolutely not."

What else would you expect a scoundrel to say who had secretly secured big sweetheart loans from Goldman and Citibank — by leveraging his retirement accounts –– to fund his 2012 U.S. Senate campaign. Loans which the Calgary Ted conveniently forgot to disclose to the Federal Election Commission. These are the very retirement accounts that he said he and his wife said he cashed in to fund his senate race. In other words, Ted lied.

At the same time Ted's bulging 2016 campaign accounts and supporting Super-PACs are stuffed with big oil and gas money. He knows how to play the game.

And perhaps the ultimate hypocrisy of the native born Canadian is that his spouse, Heidi, by all accounts a lovely wife and mother, has been employed by Goldman Sachs since 2005. She is on leave as managing director and regional head of private wealth management. Heidi is a proud member of the lefty Council on Foreign Relations, advocates of one world government and the New World Order.

Heidi is not a bit player in the Cruz campaign with those credentials but rather an integral part of the campaign's fundraising efforts. As reported by CNN last year, "She works the phones the way she worked them when she was at Goldman," said Chad Sweet, the Cruz campaign's chairman, who recruited Heidi to work at the giant investment bank."

Yet we are to believe that the big Wall Street banks have no leverage over Ted Cruz? Why didn't Heidi Cruz resign from Goldman Sachs instead of taking a leave of absence? That's like saying Bill Ayers and Saul Alinsky have had no influence on Barack Obama.
Ted Cruz may be the only hope anti-Trump voters have at blocking Donald from the nomination, but his path isn't going to be easy. Not only does the math not stay up in his favor, but the politician's slimy reputation — as evidenced above — may be his biggest hurdle of all.