As reported by
WISC News 3
, on September 2, 2015, a police officer stopped in the area of Prairie Road and Jacobs Way around 6:20 p.m. after spotting a large number of people in the street. As he approached the crowd, he saw a woman,
Latonya James
, with a can of pepper spray punch a man in the face.
When the officer tried to arrest James, the crowd surrounded him, shouting anti-police sentiments, including "We need to start killing these officers." James' daughter,
Nanyamka
, grabbed the officer. Then Latonya herself punched the officer in the face and grabbed him by the throat.
The two women were arrested when more officers arrived.
But it's not just a lone police officer being surrounded and punched,
America's police are being murdered while doing their jobs.
Here's a list of the
most recent
incidents:
On September 1, 2015, Lieutenant Joe Gliniewicz, father of four sons, was shot and killed for no reason while investigating suspicious activity in Fox Lake, Illinois.
On August 28, 2015, Darren H. Goforth, a deputy in Texas, father of two, was shot and killed while refueling his cruiser near Houston.
On August 5, 2015, Shrevepot, Louisiana police officer Thomas LaValley, 29, was fatally shot multiple times while responding to a report of an armed man threatening his family. 27-year-old Grover Cannon is wanted in connection with the slaying.
On August 4, 2015, Louisiana state trooper Steven Vincent stopped to provide assistance to a man, Kevin Daigle, whose truck was stuck in a ditch. When Vincent noticed that Daigle's pickup matched the description of a previously reported "reckless vehicle," Daigle shot Vincent fatally in the head.
Some of it "goes with the territory." Police have always been injured or killed in the line of duty. But this feels differently -- like "open season" -- and law-enforcement brass say they have become "hyper-vigilant" since the killings of two New York City police officers who were ambushed last December in their patrol car.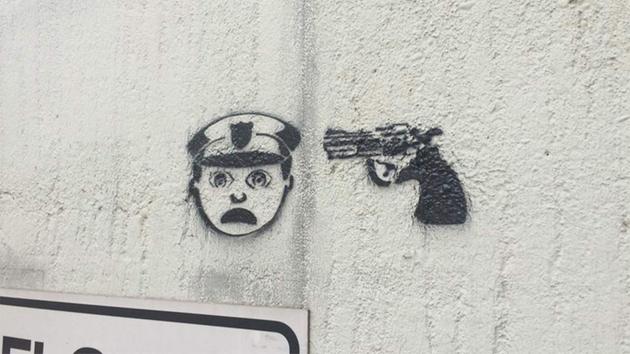 Police feel apprehensive when approached now by strangers; there is the sensation, as one put it, that they are "under siege." A sheriff in Houston described a "dangerous national rhetoric that is out there today" (much propelled by social media), saying it "has gotten out of control." The "Black Lives Matter" movement is cited as part of the influence. (All lives matter -- greatly.)
"St. Michael the Archangel, defend us in battle. Be our defense against the wickedness and snares of the Devil. May God rebuke him, we humbly pray, and do thou, O Prince of the heavenly hosts, by the power of God, thrust into hell Satan, and all the evil spirits, who prowl about the world seeking the ruin of souls. Amen."
Saint Michael the Archangel is the patron saint of police.