In 1975, the Swedish parliament unanimously decided to change the former homogeneous Sweden into a multicultural country. Forty years later the dramatic consequences of this experiment emerge:
violent crime has increased
by 300%.
If one looks at the number of rapes, however, the increase is even worse. In 1975, 421 rapes were reported to the police;
in 2014, it was 6,620
. That is an increase of 1,472%.
Sweden is now number two on the global list of rape countries. According to a
survey from 2010
, Sweden, with 53.2 rapes per 100,000 inhabitants, is surpassed only by tiny Lesotho in Southern Africa, with 91.6 rapes per 100,000 inhabitants.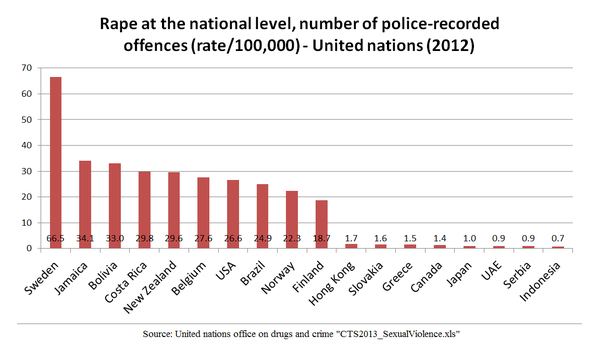 Rape rate per 100,000 population, comparison by country (selected top and bottom countries), 2012 statistics taken from the United Nations Office on Drugs and Crime. (Image source: Wikimedia Commons)
According to
figures published by
The Swedish National Council for Crime Prevention (
Brottsförebyggande rådet;
known as
Brå
) -- an agency under the Ministry of Justice -- 29,000 Swedish women, during 2011, reported that they had been raped (which seems to indicate that less than 25% of the rapes are reported to the police).
READ ALL ABOUT IT!
AND MORE RECENTLY
A 34 year old immigrant from Somalia was arrested for savagely attacking a woman next to the parking garage of a Sheraton hotel in Sweden.
The woman died while being raped. Police say the perpetrator continued to rape the woman's corpse well after she had died. The Somalian was apprehended by police while still in the act of raping the murdered woman. Source in
Swedish
. By the way, Sweden and Norway are in the middle of a massive epidemic of violent rapes